Your Surf School in Fuerteventura
When choosing a surf school in Fuerteventura, it's normal to have doubts about which one to choose.
At Flow surf Project we will give you the guidelines on which one to choose.
---
It's not just about learning how to surf, but also about doing it in safe environments for the students themselves and peace of mind for parents in the case that students are still minors. Instructors must know teaching and safety techniques, as well as being qualified lifeguards and up to date first aid certificates so that the course is 100% safe.
It is very important that, when learning to surf, softboards are used, which are surfboards with a rubber covering, and that it is made for you in accordance to your height and weight is of the utmost importance, as well as your level, because it's essential that it is a perfect fit for you.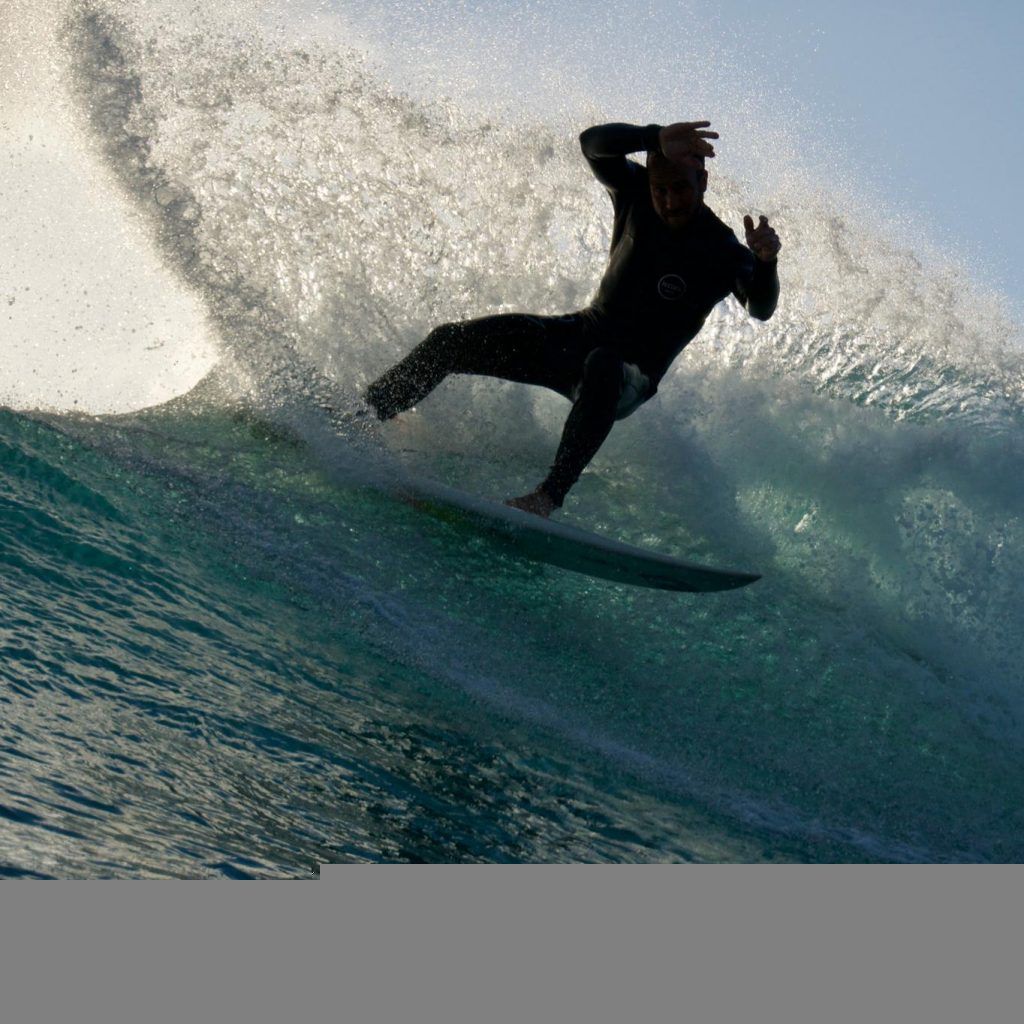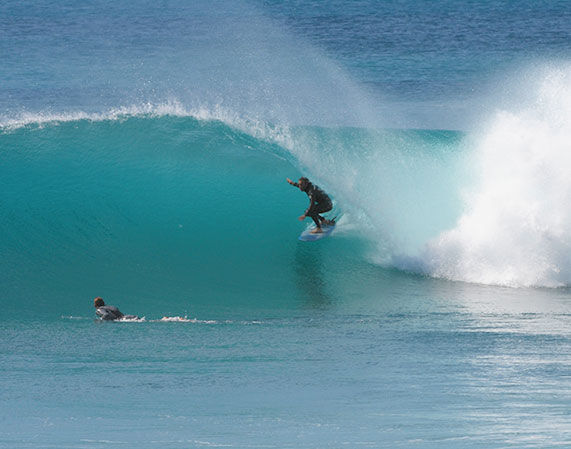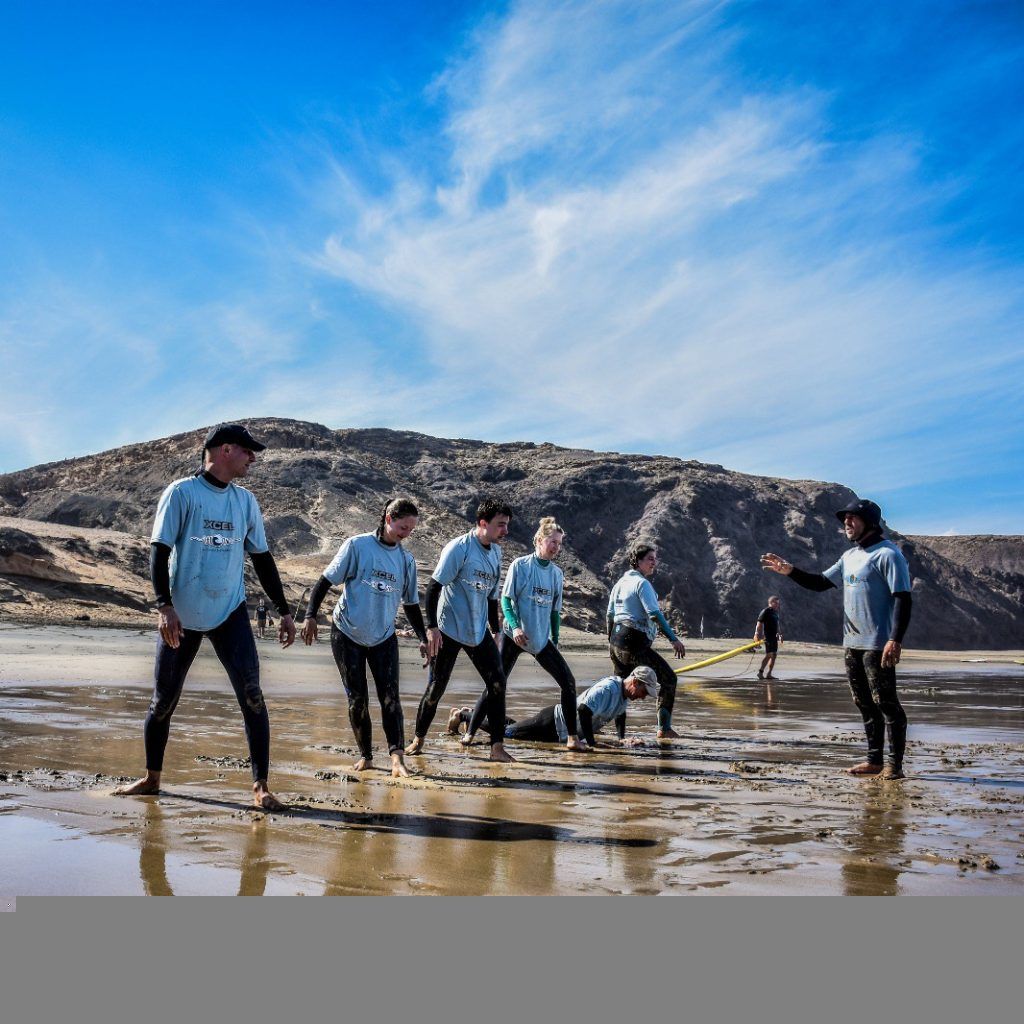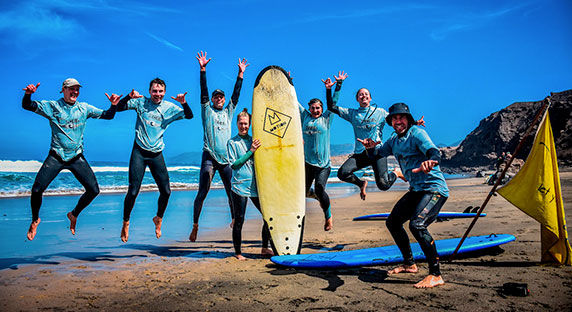 To be able to give advice and the skills necessary to master the art of surfing in a fast and safe manner. These qualities are difficult to find on the island nowadays. These requirements are not easy to find because of difficulties in finding experienced instructors as a lot of inexperienced young people learn how to surf while working as surf teachers for minimum wage which professional teachers cannot survive on.
On the other hand, a professional surf instructor has to know the sea quite well, the bottom of where the waves break, where the surfing lesson will take place because each beach has its own currents and knowing your surroundings is essential.
Course times cannot be organized in advance, only a few days before. Why? Because it depends on how the sea and the waves, so if you have booked courses in advance and have been given a timetable well in advance, they are not worried about what conditions you will encounter on the beach when you arrive.
Ideally, you should start on a comfortable and safe sandy beach with optimal conditions and a low tide. So, remember: a professional surf school in Fuerteventura will only confirm the timetable and location of the course a few days in advance.
You will also learn how to use surfing material correctly, like a leash that is exclusively used for safety reasons and is designed to be used in case you fall and you won't have to go to the shore to get it and you can move the board when you need it for safety purposes, as it can break and put us in quite a serious situation if the sea conditions are bad, It is also necessary to avoid knots which radically shorten its lifespan. Lastly it is necessary to carry an extra in case that the one we are using breaks as it is very similar to car wheels hence why we always carry a spare.
Without a leash it's impossible to surf safely especially for others who  are sharing the beach with you.
Wetsuits will help to protect you from the cold. You will be able to surf the waves with total peace of mind so that the temperature will not affect you at all while you're surfing and it even protects you from the sun.
In short, if you have been to other schools, I want you to look for the differences and I assure you that finding someone who can transmit this knowledge in German, French, English and Spanish as well as being experienced is a complicated task, so I would like you to join my course.
I guarantee that you will get professional, personalized and effective lessons in a safe environment.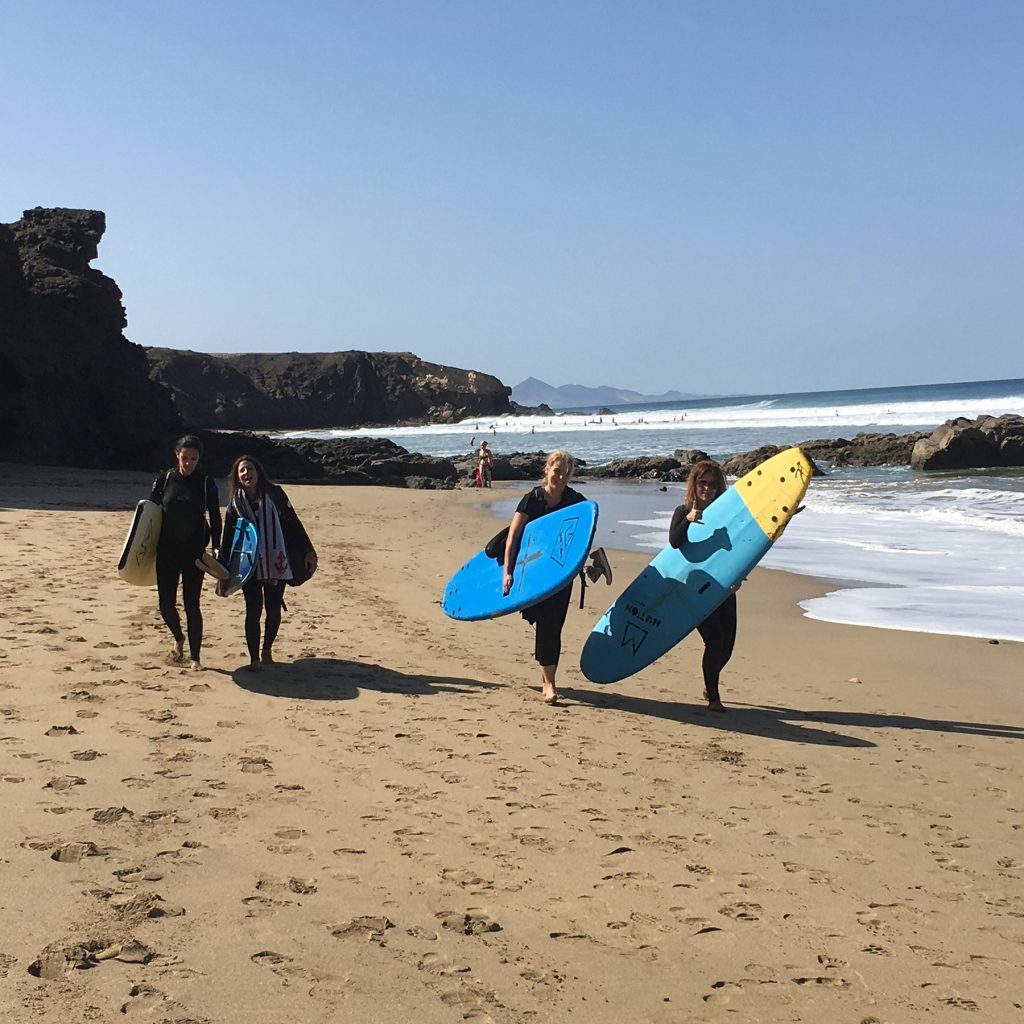 What do our clients think?

Emilio un super-crack, nos enseño en un rato a ponernos de pie en la tabla. En Famara 2 días antes no lo conseguimos en todo el día. Muy recomendable.
Irene Ocete Segura
Día impresionante. Emilio es un gran instructor, muy majo y atento.
En un día ya te puedes poner de pie. Recomendadísimo!!
Jesús Rubén
Amazing experience ?? You have to try it as soon as possible!! ✌?
Kochbox TV